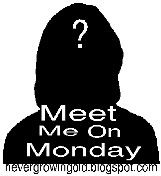 I am trying something new today, Java is hosting a Meet Me on Monday... here we go!
1. Did you watch the Superbowl?
Yep! I am a cheese head fan and was super excited to see that the Packers won. I am glad that the game was close and not a wipe-out. Plus the Darth Vader commercial was the best!
Photo courtesy of the Packers
2. What is the last book that you read?
School book = Getting to Yes
Pleasure book = I Heard you Paint Houses
3. What is your favorite kind of cake?
This is easy, red velvet. YUM I am not sure if I love the cake or the icing more.
Photo courtesy of Food Network
4. Do you snore?
Who me? Never! I just breathe hard. That recording that DB has, is the dog.
5. Do you play an instrument?
I played the clarinet in elementary and middle school but have not touched an instrument since. I would love to learn the piano, maybe once school is completed.