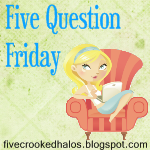 1. Do you know what your REAL hair color is?
Yep, I do not color my hair, I like to call the gray natural highlights... and no, there is no picture of my gray streak courtesy of school!
2.
Do you plan ahead for summer, or fly by the seat of your pants?
We usually plan something, although summer is DB's busiest time for work so vacations wait until the fall.
3. What is your favorite meal to cook?
I am not sure I have a favorite meal, I love baking, especially cakes. DB likes chili and tortellini soup, so I enjoy cooking those items for him.
4. Do you get offended by not receiving thank yous?
Yes! How rude! I always make a point to send thank you cards for everything. I think it makes people feel good to get old fashioned mail.
5. How did you meet your best friend?
My best friend is my husband, we met on a blind date.