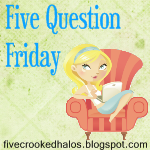 Happy April everyone! The sun is desperately trying to come out, we managed 7.4 inches of rain in March, we so need to dry out. Here are the five questions for this Friday.
1. Have you ever had surgery?
Yes, nothing ever major, just minor ones.
2. Ever ride in an ambulance?
Thankfully, No. I hope that I never have to ride in one either!
3. How are you in a medical emergency? Panicked? Calm?
Depends on the emergency, involving me, not so good. Involving others, a bit better but still sort of panicky. This is one of the main reasons, I would never do well in the medical field.
4. Do you have a garden? Flowers or veggies?
Last year, we had a vegetable garden at the barn, it got a bit out of hand but turned out alright. We also grew tomatoes and herbs on the deck last year. This year, we are going to try building a raised bed for veggies.
5.
When did you move out of your parents house?
When I left for college at 17. I did move back in a couple of times throughout college and then left permanently when I was 22.